Large state-of-the-art facility
Our 45,000 square foot facility allows us to store more than 24 million dollars worth of chemicals which insures product availability. We offer more than 60 superior quality generic products to our customers – all at a great price.

After all, your Bottom Line is our TOP Priority. OPF is conveniently located just off of Interstate 80. That means that your order will get to you even faster. All products are available in a variety of packaging options from 2 1/2 gallon jugs up to product in bulk. Mini bulk tanks are also available in 110 to 330 gallon sizes. We carry more than 30 different bulk items.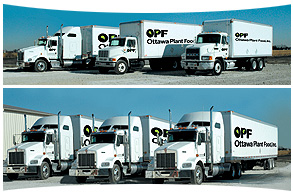 On time delivery of your orders
Our fleet of trucks and our drivers are dependable, so your product will arrive in a timely manner. Superior products, service and the best prices are delivered right to you. Our fleet of trucks coupled with our team of professional drivers gives OPF a competitive edge for timely deliveries to our customers.